Hotel
Our Hotel
Our stylishly furnished rooms radiate the pinnacle of life. We have also created places of rest and relaxation for you outdoors. Whether on the lawn with our comfortable sun loungers and parasols or on the large sun terrace or in the beer garden. With us you will find peace and nature right at the house.
The cozy and stylish atmosphere of our well-kept rooms includes comfort and technology. All rooms have bath or shower and toilet. There is also a direct dial telephone, radio and television with satellite reception and a vending machine on the floor.
Choose the best accommodation for you from three single rooms, seven double rooms, two twin rooms and one apartment.
For four rooms there is the possibility of extension to a three-bed room.
Please note that smoking is not allowed in any of the rooms. All rooms have free WiFi access. Pets are not allowed.
Single rooms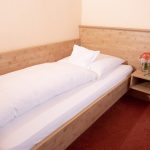 ---
Double rooms
---
Twin rooms
---
Appartement